Book Clubs for Kids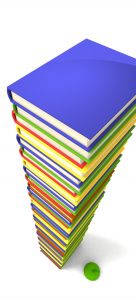 Why They Matter
Book clubs for kids, and reading in general, is probably the most important single skill a child can learn. Reading helps kids master all other subjects in school, and that's why its so important to start reading early.
Sometimes, if they're taught to read the wrong way, reading can feel more like work to kids. That's a big problem, because the best way to get kids to read is to help them understand that it is fun.
Kids book clubs help children understand that reading is fun, by making it feel like a game or a party.
How They Work
Most of the time, a book club for kids is simply a group of moms, dads or other guardians who want to help their kids have fun with reading.
The group may get together once a week or once a month and have the kids read a book together. One adult might facilitate the book group by reading the story. But, it's important to let the kids "read" too.
Make sure to ask plenty of questions as you read so the kids can talk about the book and how it makes them feel. Older kids may even be able to take turns reading a page or two.
Another Kind of Kids Book Club
Parents who are interested in having plenty of books on hand for their kids are often interested in joining an discount online kids book club. This is typically a membership-type site that you join. The best of these book clubs for kids offer benefits like:
Reading recommendations for kids, including age appropriate books.
Free kids books or discounted books when you join.
Author interviews, book excerpts and other bonuses in the club magazine.
Discounted book deals to members who have fulfilled their membership agreement (typically buying a couple books at regular club prices).
If you are interested in having a well-stocked library for your child to enjoy and buy more than 12 books a year, you'll probably end up saving a lot of money joining one of these clubs. Popular kids book clubs include:
More Kids Reading Resources
Here are some good pages for more information on kid's book clubs:
Return from Book Clubs for Kids to Types of Book Clubs.